It has been six years since the last mainline entry in the enduring Final Fantasy series, marking one of the longest intervals between games in its 35-year history. Nonetheless, the wait seems to be justified, as Final Fantasy XVI appears to be a high-fantasy epic that blends the magnificence of earlier titles with the advanced technology of recent games. We are optimistic that this upcoming installment will be well worth the wait.
During the summer showcase season, we got a new glimpse at Final Fantasy XVI, and producer Naoki Yoshida provided additional details in interviews. The game promises to be an exceptionally ambitious Final Fantasy title, featuring extraordinary large-scale battles and a narrative that unfolds over decades. Here is everything we know about Final Fantasy XVI.
Release Date
Final Fantasy 16 to launch on PlayStation 5 on June 22, 2023.
It is important to mention that the game will not be cross-generation, which means that PS4 owners will have to upgrade to PS5 to play it. Square Enix revealed this information during the game's announcement trailer, stating, "The following content is captured on PC emulating the PS5 experience," and adding that the latest installment in the Final Fantasy saga will "not [be] available on other platforms for a limited time after release on PS5."
Will Final Fantasy XVI be available outside of PS5?
Good news for PC gamers! Recent trailers for the game have not only confirmed that Final Fantasy XVI is coming to PC, but also provided details on the duration of its exclusivity period. According to a recent trailer, PlayStation 5 exclusivity will expire on December 31, 2023, which is approximately six months after the game's initial release. While this does not guarantee that Final Fantasy XVI will be immediately available on PC after this period, we are relieved that the exclusivity window is much shorter than that of Final Fantasy 7 Remake.
As for whether Final Fantasy XVI will make its way to Xbox, there has been no official confirmation from Square Enix. Considering several Final Fantasy titles have already been released on Xbox platforms, it wouldn't be too surprising if it eventually does. However, since we are still waiting for the Final Fantasy 7 Remake port since its initial release of 2020, the outcome remains uncertain.
The story we know so far…
Final Fantasy XVI's trailer and official website introduce Valisthea, a world filled with conflict, political intrigue, and Dominants, who can wield the power of Eikons (or summons). The story follows the main character, Clive Rosfield, across three eras: his teens, 20s, and 30s. Clive, the son of an archduke, has Eikon-related abilities but isn't a Dominant. Instead, he is sworn to protect his brother Joshua, a Dominant struggling to control his Eikon.
Producer Yoshida highlighted FFXVI's themes, including the clash of values among diverse individuals and the exploration of whether people should live the lives chosen for them or fight against their destiny.
The game also features other characters like Jill Warrick, a confidant to Clive and Joshua with a complex backstory, and iconic Eikons such as Shiva and Titan, which play a crucial role in the power dynamics between Valisthea's realms. A confrontation with an Imperial Viper, an armor-clad, lance-wielding Dragoon, adds another staple to the series.
FFXVI's world is centered around Mothercrystals, which provide the land with aether, or magic. However, a destructive force called The Blight threatens the world. The game's tagline, "The legacy of the crystals has shaped our history for long enough," suggests potential upheavals in Valisthea's future. The first trailer, "Awakening," offers a preview of the story, cutscenes, and gameplay, accompanied by a powerful orchestral theme featuring iconic Final Fantasy elements, such as the Crystal Prelude. The music bears a resemblance to composer Masayoshi Soken's work on FFXIV: Heavensward, suggesting a similar tone for the upcoming game.
The latest trailer for Final Fantasy XVI, titled "Revenge," was unveiled at TheGame Awards 2022. It showcases the fast-paced action gameplay seen in previous trailers, as well as a glimpse of the Espers players will encounter, such as Odin and Ifrit.
Final Fantasy XVI will be the first game in the series to receive an M-rating. Square Enix informed GameSpot that this was a deliberate decision to create a more mature story. The game's rating indicates that it will feature sex scenes (not fully shown) and various forms of violence, including blood, intentional deaths, torture, suffering victims, and hate crimes.
Producer Naoki Yoshida explained the reasoning behind the mature rating: "To make sure that we could tell the story that we wanted in the way that we wanted to, we decided to pursue a mature rating in most of the regions that will be releasing the game." He emphasized that the goal was not to make the game more violent or explicit but to allow for a deeper exploration of the mature themes tackled in the game.
Massively epic Eikon (Summon) battles
During Sony's June 2022 State of Play event, the second trailer for FFXVI was shown, featuring massive Eikon battles that will serve as major set pieces. In an interview with GameSpot, director Naoki Yoshida said that each Eikon battle would be unique, with each having its own twist to differentiate it from the rest. Some battles might emulate wrestling matches, while others might resemble 3D shooters. Yoshida estimates that there will be around 20 of these unique battles in the game.
While the Eikon battles are the game's main focus, there will also be smaller battles against standard enemies, mini-bosses, and even Eikons appearing as human-sized. The battles will take place in wide-open spaces, but Square Enix has clarified that FFXVI is not an open-world game. Instead, the Eikon battlefields will be more like arenas.
Final Fantasy XVI Logo
Final Fantasy fans always look forward to artist Yoshitaka Amano's unique logo for each game, which often gives us a clue about the game's story. FFXVI's logo features Ifrit and Phoenix in a face-to-face battle, which is a conflict that concludes the trailer. This battle hints at Ifrit being a key opposing force in the game, while Phoenix is the Eikon that the Rosfields wield, making it a central conflict that drives the game's story.
Furthermore, it seems that Eikons will play a vital role in the world of FFXVI, more so than in previous Final Fantasy games. The logo hints at a world where Eikons are pivotal to the game's story and operations.
Action RPG-Style Gameplay
Final Fantasy XVI will feature an action-RPG style of combat, similar to Final Fantasy XV and the Final Fantasy VII Remake. The decision to shift to an action-RPG combat style is in line with producer Naoki Yoshida's remarks about turn-based systems being unappealing to younger gamers. The game's protagonist, Clive, will be able to cast fireballs, engage in melee combat with his sword, use warp-like abilities, and employ Eikon-related powers, such as summoning a stone fist during his battle against a Dragoon.
Although Clive is the central character and player protagonist, he won't be the only adventurer in the game. He will be accompanied by AI-controlled party members who will interact with him and a "faithful buddy" character that players can directly command. Clive will remain the main character throughout the game, though.
The battle director for Final Fantasy XVI is Ryota Suzuki, who was a combat designer for Devil May Cry 5 and Dragon's Dogma. This appointment could mean that the combat system for Final Fantasy XVI will be quite exciting. While the new focus on action-RPG combat is a departure from turn-based systems, Naoki Yoshida has assured fans that the game's story won't be sacrificed in the process.
Development Leadership
Final Fantasy XVI is being developed by Creative Business Unit III, the team behind the popular MMORPG, Final Fantasy XIV. The production is led by Naoki Yoshida, who spearheaded the successful relaunch of FFXIV and directs the ongoing development of the MMO. Meanwhile, Hiroshi Takai, who has an extensive history with Square Enix and the Final Fantasy franchise, was also part of FFXIV's reboot. With this impressive team behind the game's development, fans can expect an exceptional gaming experience that promises to combine great storytelling with immersive gameplay.
Preorder Final Fantasy XVI Today!
You can preorder the game in both standard edition and deluxe edition at retailers like Amazon*.
Pre-order today to receive two bonus content: (Gil Boost Accessory) Cait Sith Charm and (Bonus Weapon) Braveheart!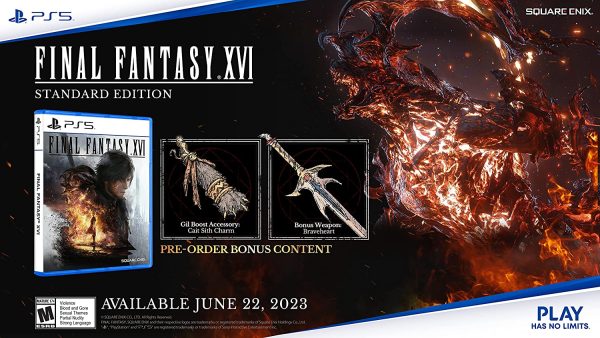 The deluxe edition includes: Base Game, Cloth World Map of Valisthea, Special Clive Rosfield SteelBook Case.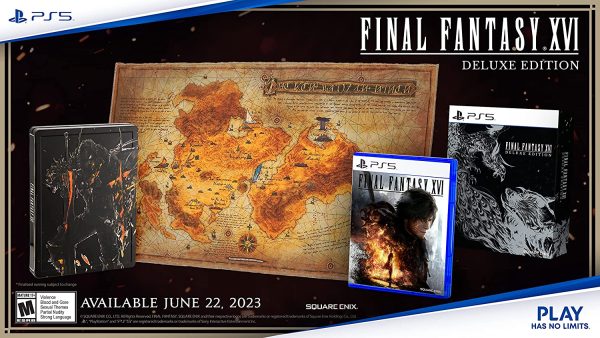 * Amazon links are attached to our affiliate ID.
Article inspired by Gamespot's coverage.