Dress Spheres – Songstress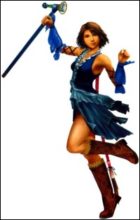 A very useful party support dress sphere. You can preform multiple status effects, as well as providing stat increases with the dances.
Acquired By
Defeat LeBlanc in the first battle of the game.
Ability Highlights
Nothing like aiding the other party members by casting a Haste dance, or doubling their HP for the duration of the dance. Not only can you boost stats, you can also hinder enemies almost useless, with Darkness Dance, as well as others.
Abilities List
| Ability | Description |
| --- | --- |
| Darkness Dance | Blinds enemies for the duration of the dance. |
| Sambla of Silence | Silences enemies for the duration of the dance. |
| MP Mambo | MP costs are zero for the party during the duration of the dance. |
| Magical Masque | Nullifies magical attacks for the duration of the dance. |
| Sleepy Shuffle | Enemies fall asleep for the duration of the dance. |
| Carnival Cancan | Party's HP is doubled for the duration of the dance. |
| Slow Dance | Slows enemies for the duration of the dance. |
| Brakedance | Enemies stop for the duration of the dance. |
| Jitterbug | Party has Haste on for the duration of the dance. |
| Dirty Dancing | All attacks are critical hits for the duration of this dance. |
| Battle Cry | Raises party's Strength. |
| Cantus Firmus | Raises party's Defense. |
| Esoteric Melody | Raises party's Magic |
| Disenchant | Raises party's Magical Defense |
| Perfect Pitch | Raises party's Accuracy |
| Matador's Song | Raises party's Evasion |