Dress Spheres – Machina Maw (Rikku's Special)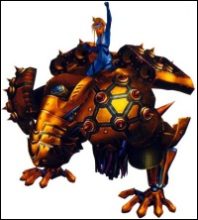 Rikku's special dress sphere. She summons what seems to be a pet, which can unleash some pretty devestating attacks.
Acquired By
Around the Oasis in Bikenel Desert on Chapter 2.
Ability Highlights
This special dress sphere allows you do many things, like cast status effects and do massive damage. Also included are the Break Damage/HP limit abilities, which allow you to exceed 9999 life and damage!
Abilities List
Center (Rikku)
| Ability | Description |
| --- | --- |
| Attack | Basic attack. |
| Revival | Revives a KO'd party member. |
| Death Missle | Instant kill on one enemy. Doesn't always work. |
| Bio Missle | Damages an enemy and inflicts Poison. |
| Break Missle | Damages an enemy and inflicts Petrification. |
| Berserk Missle | Damages an enemy and inflicts Berserk. |
| Stop Missle | Damages an enemy and inflicts Stop. |
| Confuse Missle | Damages an enemy and inflicts Confusion. |
| Shockwave | Damages all enemies. |
| Shockstorm | Damages all enemies and delays their turns. |
| Vajra | Damages all enemies. |
| Ribbon | Immune to status effects. |
| Double HP | Doubles max HP. |
| Triple HP | Triples max HP. |
| Break HP Limit | Allows max HP to exceed 9999. |
| Break Damage Limit | Allows max damage to exceed 9999. |
Smasher (Right)
| Ability | Description |
| --- | --- |
| Howitzer | Damages one enemy. |
| Sleep Shell | Damages an enemy and inflicts Sleep. |
| Slow Shell | Damages an enemy and inflicts Slow. |
| Anti-Power Shell | Damages one enemy and lowers its Strength. |
| Anti-Armor Shell | Damages one enemy and lowers its Defense. |
| Scan | View enemy info. |
| Shelter | Casts Shell on party. |
| Protector | Casts Protect on party. |
| HP Repair | Restores HP. |
| MP Repair | Restores MP. |
| Homing Ray | Damages one enemy. |
| Ribbon | Immune to status effects. |
| Double HP | Doubles max HP. |
| Triple HP | Triples max HP. |
| Break HP Limit | Allows max HP to exceed 9999. |
| Break Damage Limit | Allows max damage to exceed 9999. |
Crusher (Left)
| Ability | Description |
| --- | --- |
| Howitzer | Damages one enemy. |
| Blind Shell | Damages an enemy and inflicts Sleep. |
| Silence Shell | Damages an enemy and inflicts Silence. |
| Anti-Magic Shell | Damages an enemy and reduces its Magic. |
| Anti-Mental Shell | Damages an enemy and reduces its Magic Defense. |
| Booster | Casts Haste on the party. |
| Offense | Raises party member's Offense. |
| Defense | Raises party member's Defense. |
| HP Repair | Restores HP. |
| MP Repair | Restores MP. |
| Homing Ray | Damages one enemy. |
| Ribbon | Immune to status effects. |
| Double HP | Doubles max HP. |
| Triple HP | Triples max HP. |
| Break HP Limit | Allows max HP to exceed 9999. |
| Breal Damage Limit | Allows max damage to exceed 9999. |